Creality's latest addition to their 3D printer lineup, the CR-M4, boasts a large build volume of 450 x 450 x 470mm, making it an ideal workhorse for creating large models with minimal or no post-processing. Additionally, it allows you to batch-print multiple parts simultaneously, enabling you to maximize your creativity and unleash your imagination.
Although Cura may not yet have a slicing profile ready for this new printer, you can still start printing with it using Creality Slicer V4.82-279 (latest at the moment) and above, which can be downloaded from their official website. This software comes with a pre-loaded profile that is optimized for the CR-M4, allowing you to get started with your printing projects right away. Below is the guide for CR-M4 Cura Profile
https://www.crealitycloud.com/software-firmware/software?type=8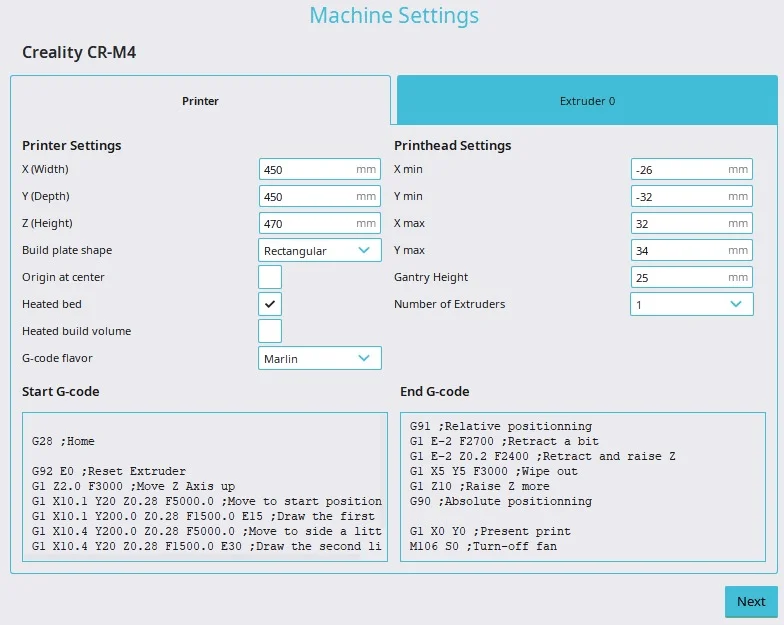 Start G-code
G28 ;Home

G92 E0 ;Reset Extruder
G1 Z2.0 F3000 ;Move Z Axis up
G1 X10.1 Y20 Z0.28 F5000.0 ;Move to start position
G1 X10.1 Y200.0 Z0.28 F1500.0 E15 ;Draw the first line
G1 X10.4 Y200.0 Z0.28 F5000.0 ;Move to side a little
G1 X10.4 Y20 Z0.28 F1500.0 E30 ;Draw the second line
G92 E0 ;Reset Extruder
G1 Z2.0 F3000 ;Move Z Axis up
End G-code
G91 ;Relative positionning
G1 E-2 F2700 ;Retract a bit
G1 E-2 Z0.2 F2400 ;Retract and raise Z
G1 X5 Y5 F3000 ;Wipe out
G1 Z10 ;Raise Z more
G90 ;Absolute positionning

G1 X0 Y0 ;Present print
M106 S0 ;Turn-off fan
M104 S0 ;Turn-off hotend
M140 S0 ;Turn-off bed

M84 X Y E ;Disable all steppers but Z
However, if you prefer to use Cura slicer instead, you can still achieve excellent results by copying the settings from Creality Slicer, as well as the start and end G-code. This will ensure that your prints are executed according to the Creality recommended setup, without any issues or errors.
Retraction Setting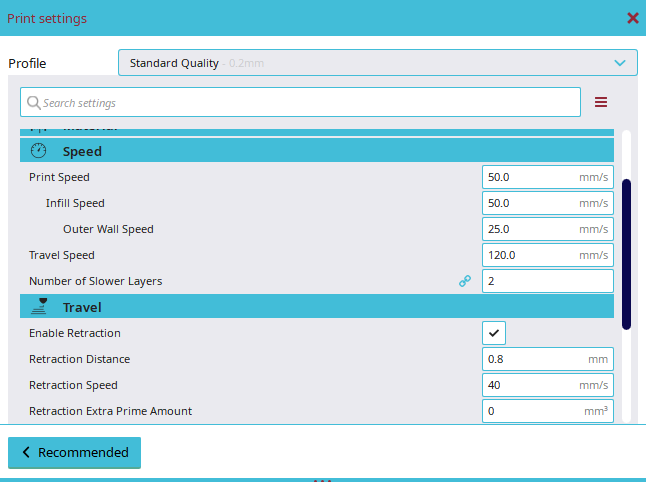 The CR-M4 is equipped with a direct drive spire extruder and bi-metal heat break, requiring shorter retraction settings to prevent clogging and minimize stringing for optimal performance.
Default Retraction Distance: 0.8mm
Default Retraction Speed: 40mm/s

If you are still getting stringing issue, do print out the retraction tower by TeachingTech to test your best performance. distance range from 0.5 to 3mm, speed from 30-60mm/s

https://teachingtechyt.github.io/calibration.html#retraction