Ender 5 Plus has be released for aged and it has been one of the most stable printer being released by Creality. However the firmware itself has been lackluster and stay at 1.70.2~1.70.3 since years ago. Printer in 2023 should have equips with more features. Therefore Insanity Automation has released a better firmware equip with more features such as PID tuning, adjust E-step, adding M600 – Filament Change functions that Creality didn't enable it inside the factory shipped firmware.
Prerequisite
PC/Laptop with USB port
USB to MicroUSB Cable
Ultimaker Cura Slicer – Send hex firmware file from PC to printer
MicroSD Card (no more than 16GB)
Back up your settings
Before flashing anything, if you have customized the E-step, probe offset or PID, all will be wiped and factory default. Do write down before proceeding.
Update LCD Firmware
LCD firmware download link: TM3D_Combined480272_Landscape.zip
IMPORTANT: before extract the files, format the microSD Card to FAT32 with allocation unit size 4k (4096). any other format will not update the DWIN properly.
after format, extract the files, copy the DWIN_SET folder to the root of the SD Card.
Next, open up the case from the bottom of the Ender 5 Plus, remove the fan connector so you can set the lid aside.
on the LCD board there is a microSD card slot, insert the microSD card (with DWIN_SET folder) and power on the printer, watch the LCD as the new files being copied into the printer. After a few minutes, you will see END appear on the LCD Screen when it's done.
Power off the printer, remove the microSD card, put back the cover and remember to connect the fan.
Update Mainboard Firmware (Ender 5 Plus)
Mainboard firmware download links (download either one of them)
Stock Printer: E5P_BIL_DW7.4.6.hex.zip
Silent Board Upgrade: E5P_BIL_Slnt_DW7.4.6.hex.zip
For more variations (Ender 5 Plus Prefix – E5P under CrealityDwin_2.0 branch): https://github.com/InsanityAutomation/Marlin/tree/CrealityDwin_2.0/Hex%20Files
Next, extract the hex file into your PC, and remember the folder path.
Power on the printer, connect to the printer to your PC using USB cable. Open the cura slicer, press Printer Profile (e.g. Creality Ender-5 Plus) > Manage Printers > Select your printer profile > Press Update Firmware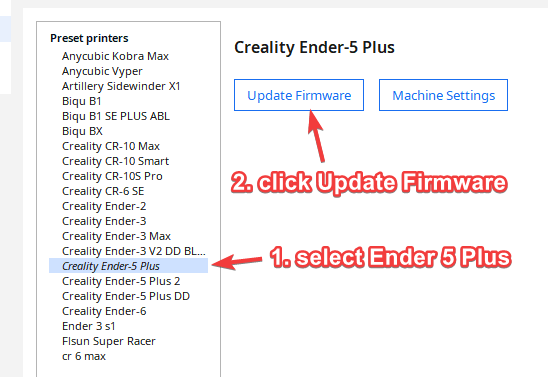 If you are connected to the printer, the Upload custom firmware should be clickable, click "Upload custom firmware", select the hex file you just extracted and press upload.
Once it's completed, power off the printer and remove the USB cable.
Verify if updated correctly
After everything is done, power on the printer and the screen should show Insanity Logo and proceed to the main menu.
If it doesn't show Insanity Logo, please redo the "Update LCD Firmware" process again
If it stuck at the Insanity Logo, please redo the "Update Mainboard Firmware" process again.
That's it! You are now equip with better firmware without needed to change the board.