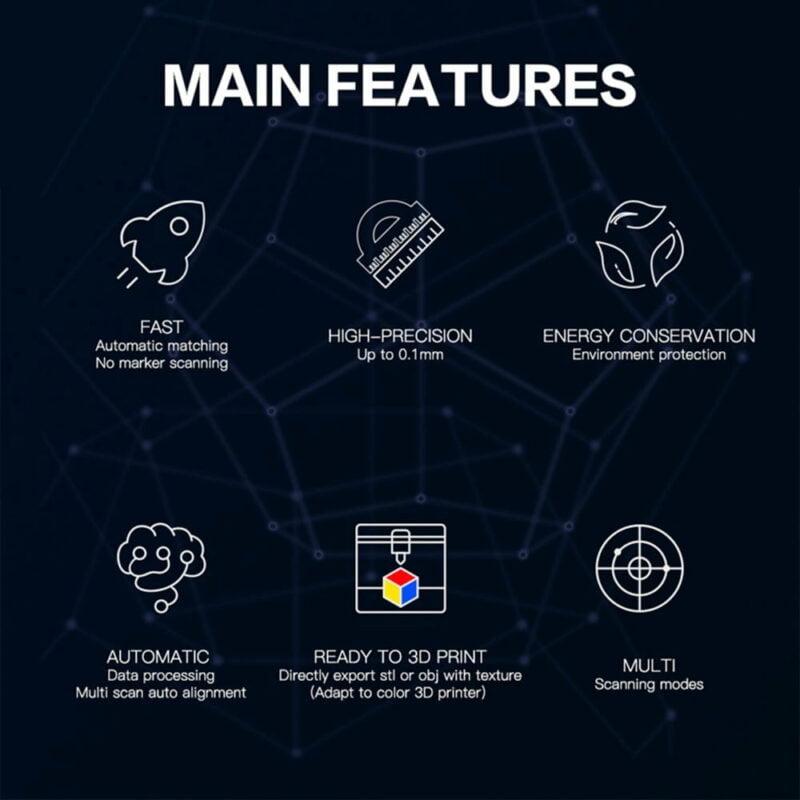 Quick Tutorial (Software inside the attached USB):
1. Before installing the software, be sure to close the anti-virus software, otherwise the driver installation may fail, causing the software to crash.
2. After installing, you need to upload a calib file which is saved in the USB Drive. This calibration file has a one-to-one correspondence with the scanner. If you accidentally delete the file, please contact us in time.
3. Under handheld mode, after starting the scan, there will be a 10 second countdown. During this period, fix the field of view on the object that needs to be scanned.
4. Under turntable mode, make sure that you have initialized the turntable.
5. Scan at a constant speed, try to scan in a clockwise direction from top to bottom. Here a video on how to scan a body.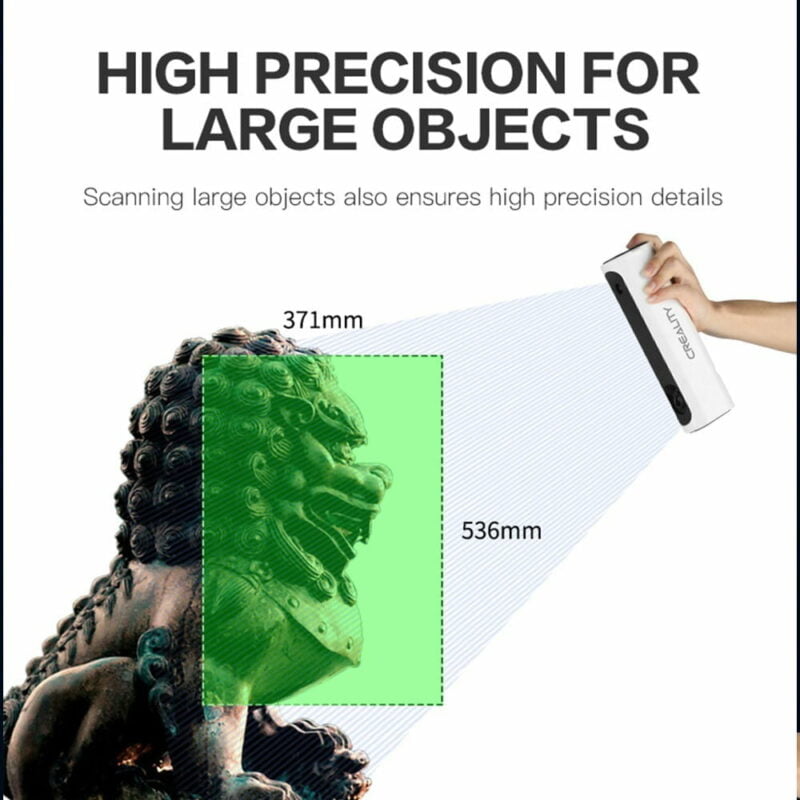 【Auto Scan Matching, Easy to Operate】Creality CR-SCAN01 3D modeling scanner adopts intelligent wide-range alignment algorithm to ensure automatic matching, there is no need to manually mesh alignments, calibrate or use marker points. Under handheld mode, It will auto splice and synthesis different angles of the same model based on color and structural features. More flexible, Easier to operate.
【Affordable Professional-Grade Scanner】Scanning Distance: 15.75-35.45inch (40-90cm); Operating Range: 11.80-78.75inch (30-200cm); Scan Resolution: 0.5mm; Image Size: 536×378 at 10 fps; Accuracy: 0.1mm. Such high accuracy level ensures high precision texture feature details for both small and large objects. 24 bit high-fidelity color restoration perfectly support for color printing or modeling output.
【Auto Editing, User Friendly Software】 Concise UI design and the operation process is easy to manipulate. Powerful modeling processing methods—automatic filling repair, automatic color repair, automatic substrate recognition, non-destructive mesh simplification, automatic smooth denoising, give you a great scanning experience.
【OBJ/STL OUTPUT, Save Your Time】Outputs standard file formats includes stl and obj. Compatible with all mainstream FDM and light curing printers. It also greatly saves your time to learn 3d modeling software or model complex models, such as human body and face etc. Whether you are a maker, designer, educator, student or hobbyist, you can turn your ideas into reality.
【Wide Application, Greatly Enrich your life】This Little Portable 3D Scanner captures life in a three-dimensional way and turns abstract into concrete. It is widely used in 3d printing, animation design, art, industrial design, reverse engineering, 3d modeling, manufacturing, healthcare modeling and so on. During use, if you have any technical problems, please contact us, we will reply you within 24 hours and definitely get things right.