🔥All are ready stock in Sungai besi office & ship within 24 hours* (Except for non working day, but do call us to check)
🔥Select Others (West Malaysia) as shipment if you'd like to opt for self-pickup/by delivery services (Lalamove, Grab, etc). Contact us after placed order.etc ).
🔥 For KL same day delivery, Please contact us if you'd like to opt for self-pickup/by delivery services (Lalamove, Grab, etc ). Buyers will have to bear the delivery cost and set our Sungai Besi office as pick up point. Do check with us before you purchase as we may not be available.
Phaetus V6 Hardened Steel Nozzle: The Ultimate Choice for 3D Printing Performance
Step up your 3D printing game with the Phaetus V6 Hardened Steel Nozzle. Engineered for peak performance, this premium nozzle boasts hardened steel construction for unmatched durability, especially when printing with abrasive materials. Its V6 design compatibility ensures it seamlessly integrates with a wide range of hotend systems.
Why the Phaetus V6 Hardened Steel Nozzle Stands Out:
Abrasion Resistant: With a hardness surpassing HRC60, expect minimal wear even after prolonged printing sessions with abrasive materials.
-High-Temperature Tolerance: Resistant to temperatures up to 450℃, it's the go-to nozzle for specialized engineering plastics like PEEK.
-Precision Crafted: Specialized processing ensures the nozzle is free from burrs and debris, guaranteeing a clean print every time.
-Smoother Printing: The nozzle's internal hole boasts a roughness less than Ra0.4, promoting smoother prints and reduced filament adhesion.
-Accurate Outcomes: A minimum hole diameter of 0.1mm/±0.01mm ensures precision printing, even for experimental projects.
-Reliability Assured: Made from top-tier imported die steel, the nozzle offers consistent and stellar performance.
Applicable Filament:
Wear-resistance, High temperature performance, suitable for 3D printing composites with abrasive additives such as Carbon Fiber, Steel, Wood, Boron Carbide, Tungsten and Phosphorescent pigment as well as conventional materials.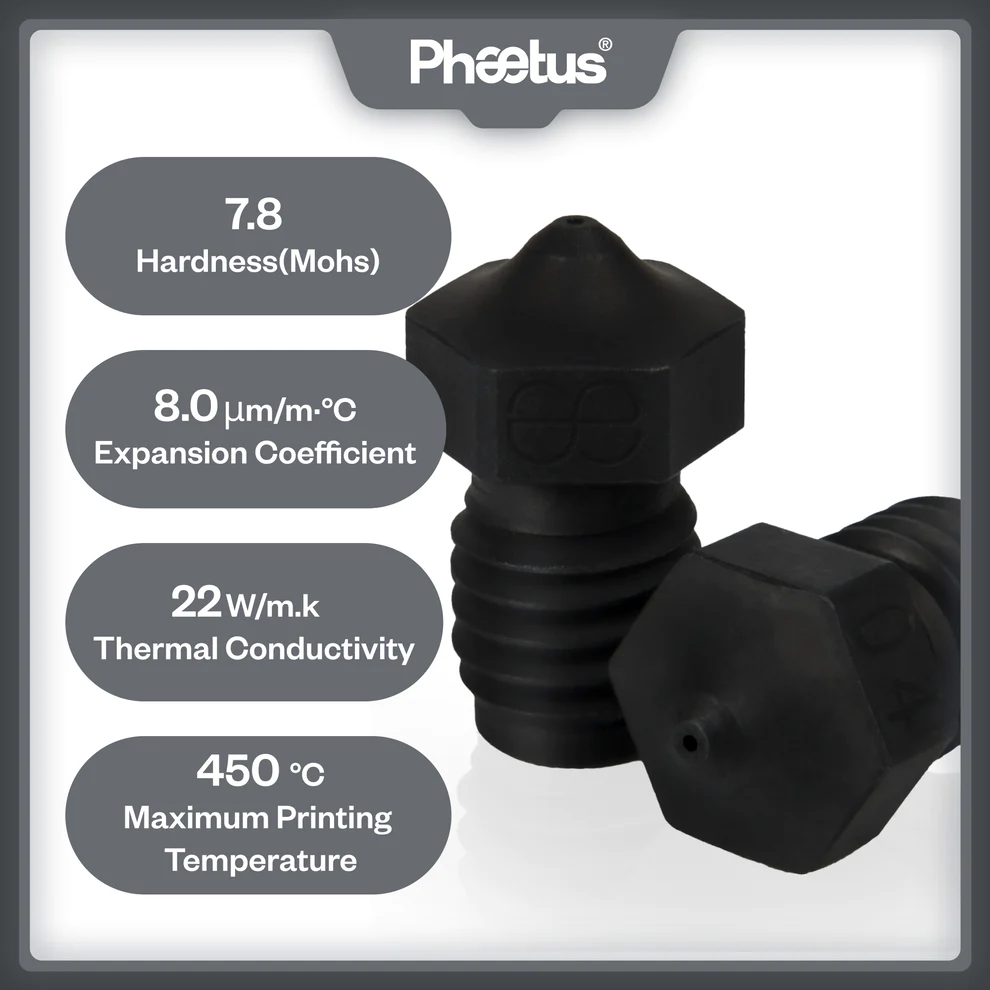 Package Includes:
1 x Phaetus V6 Type Hardened Steel Nozzle