The Bigtreetech Pad 7 guarantees the ultimate printing experience for all 3D printing enthusiasts! The 7-inch IPS touchscreen tablet is preloaded with Klipper and KlipperScreen, comes with a variety of diverse interfaces, and is compatible with nearly all FDM 3D printers!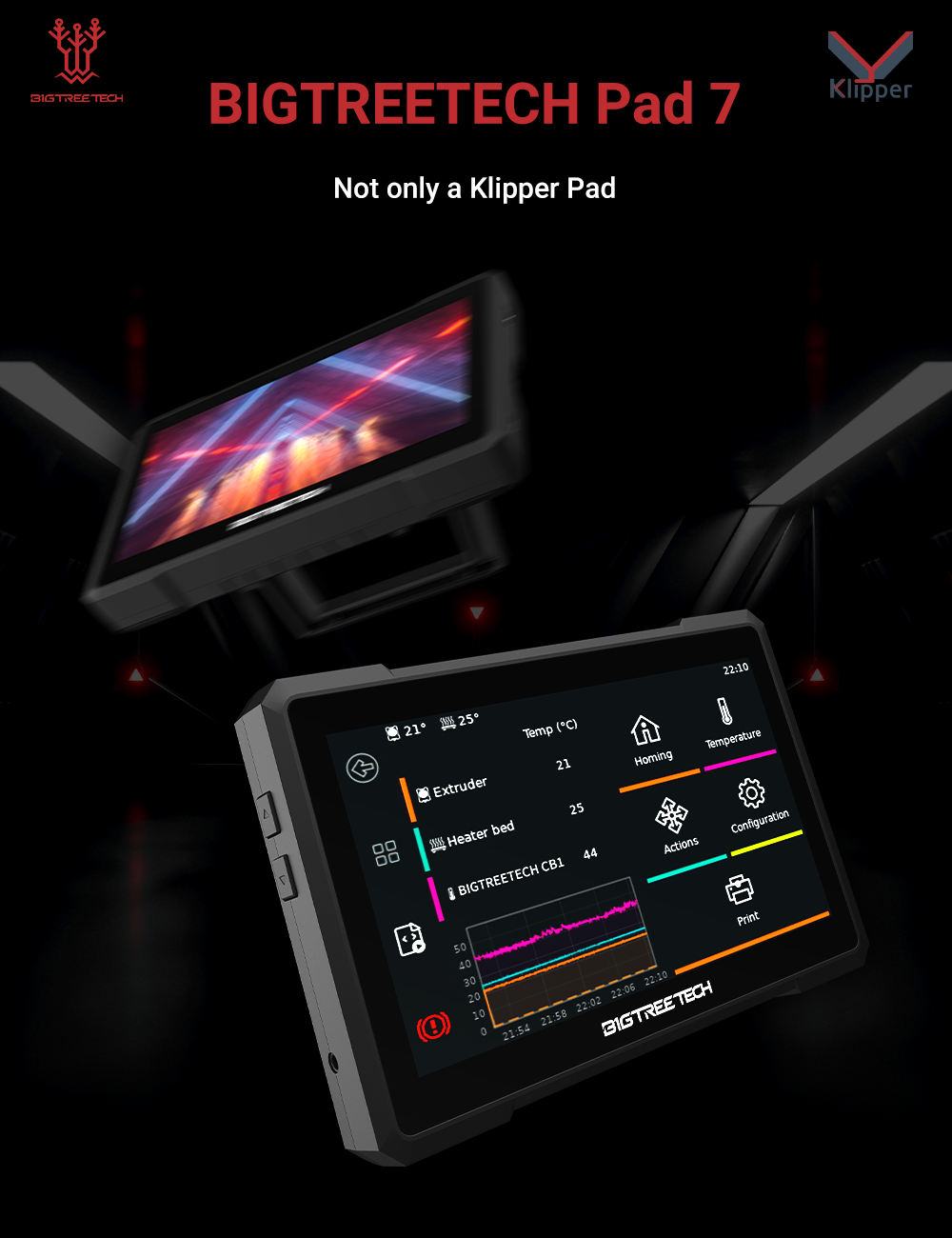 Key Features:
1)Preloaded Klipper and KlipperScreen
-The Pad 7 comes with pre-installed Klipper firmware, saving you both setup and configuration time. The powerful firmware with precision-driven algorithms ensures efficient high-speed performance.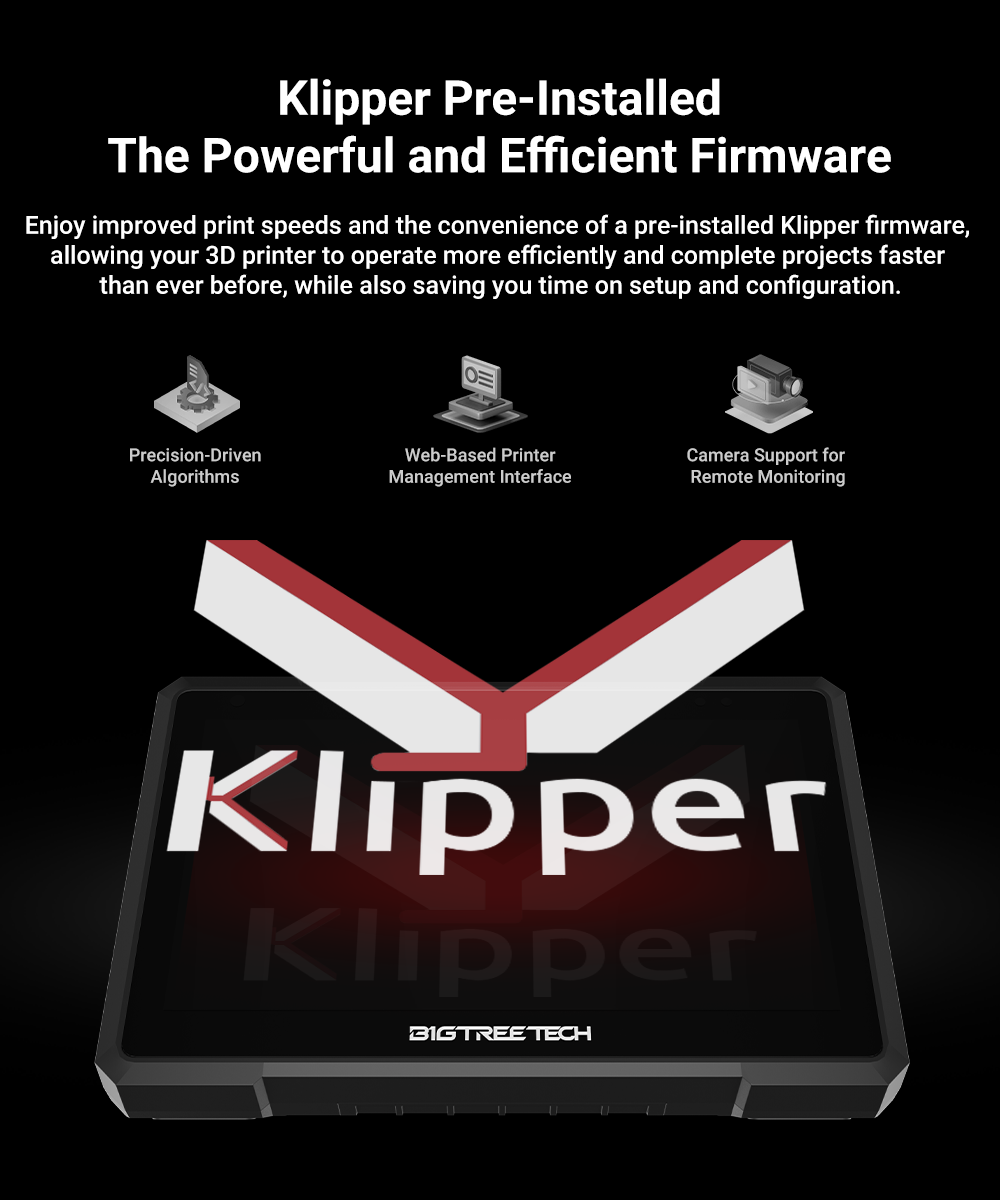 2)High-Speed Printing with Klipper Input Shaper and ADXL345 Module
-The combination of Klipper Input Shaper and the Bigtreetech ADXL345 accelerometer guarantees top-tier print quality even at extremely high speeds.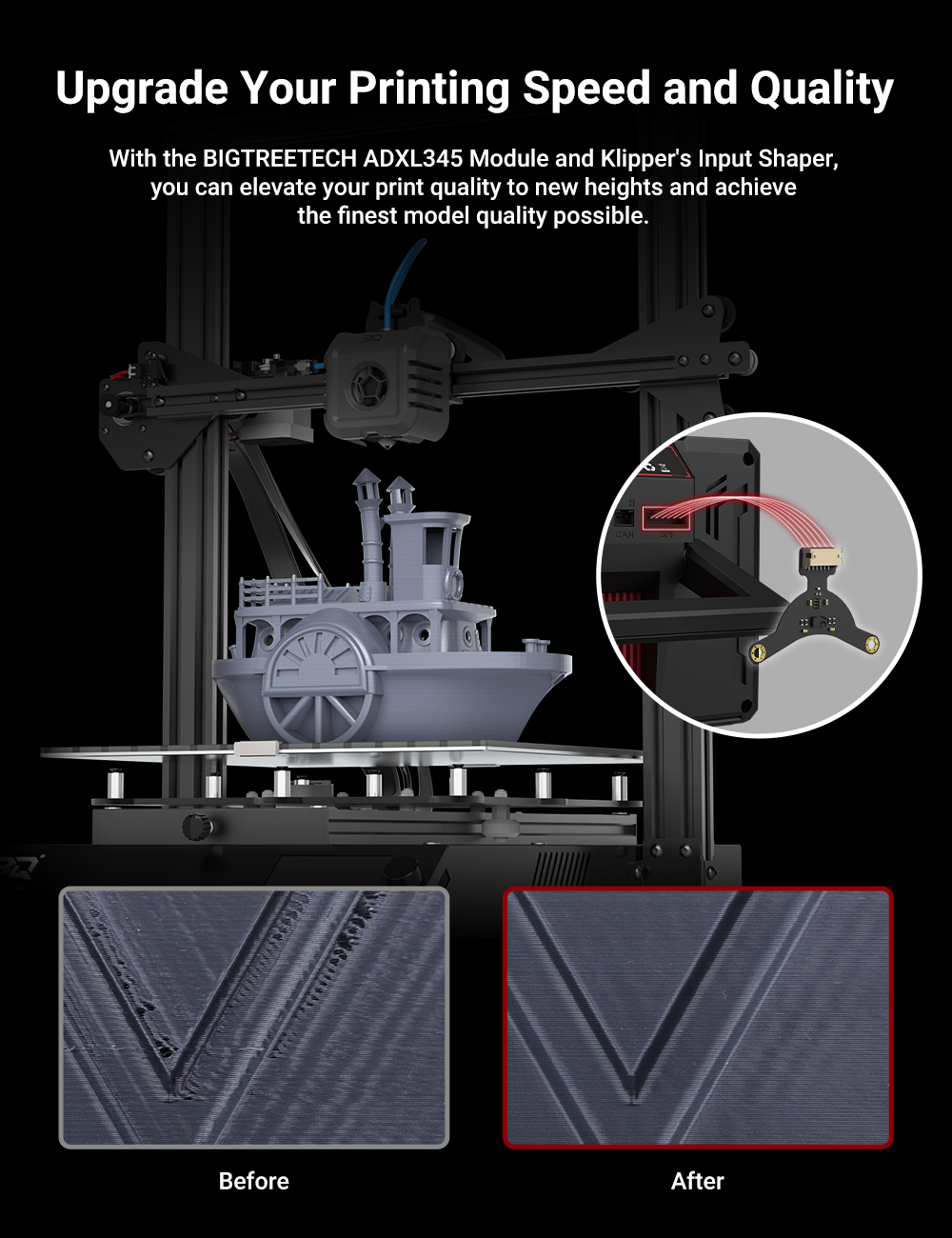 3)Bigtreetech CB1 Core Board
-Featuring the pre-installed CB1 core board with the Allwinner H616 ARM Cortex-A53 (64-bit 1.5 GHz) CPU, offering excellent performance for seamless Klipper operation.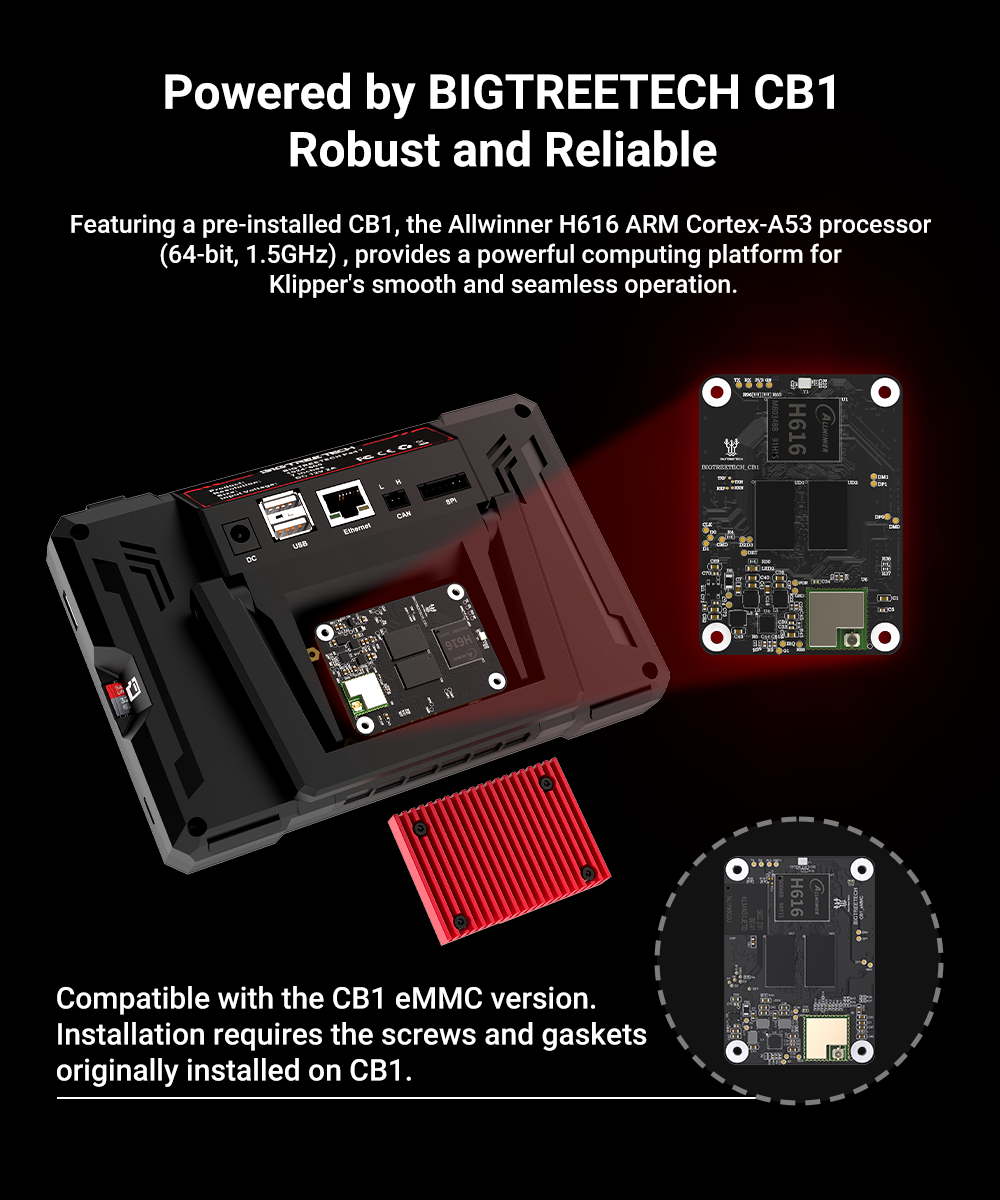 4)Multiple Connectivity Options
Equipped with a variety of connectivity options:
-3 x USB-A,
-TF Card Slot,
-RJ45,
-SPI Interface,
-USB-C,
-CAN bus,
-3.5mm audio jack
5)Multi-Value Functions
-SanDisk 32GB TF card included for convenient Klipper firmware upgrades.
-Custom heat sink included for improved heat dissipation, stability, and longevity.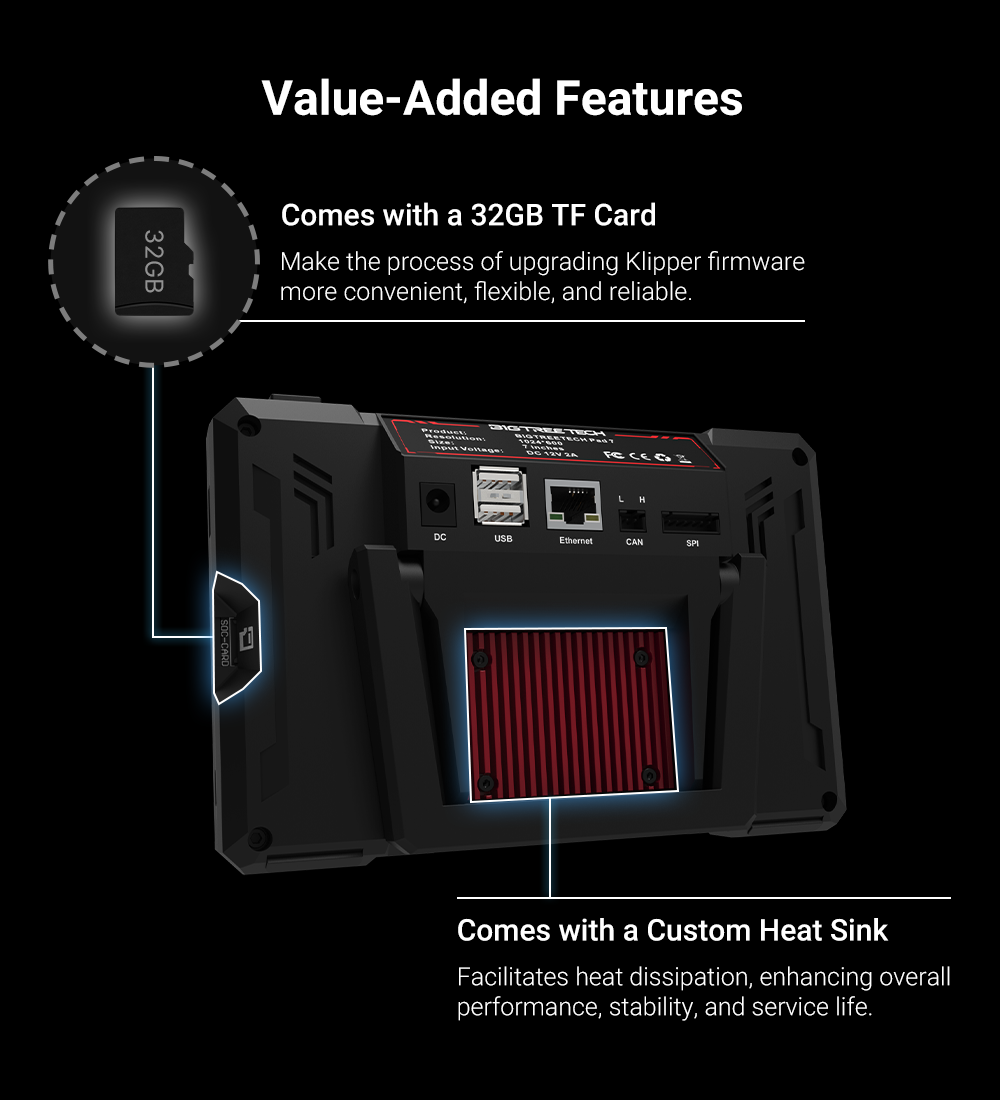 6)Wireless Printing Flexibility
-Control the Pad 7 via the intuitive touchscreen or wireless connection through WiFi using your smartphone, tablet, or computer.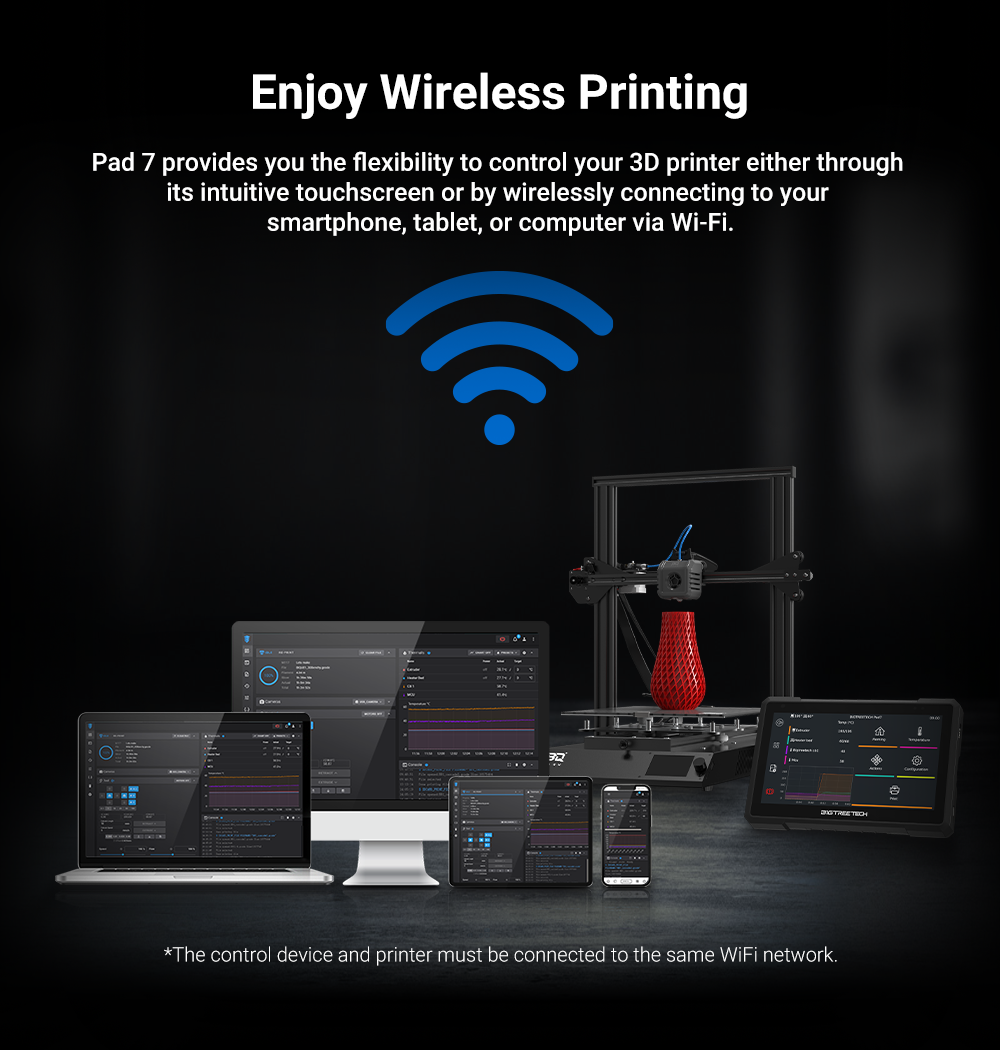 7)High Compatibility
-Thanks to Klipper firmware, the Pad 7 is compatible with a wide range of 3D printers, including Voron 2.4, Ender-3, BIQU B1 SE Plus, and more! Also compatible with Bigtreetech SKR, Octopus series motherboards, EBB Tool Boards, etc.
8)CM4 Upgrade Possibility
-The built-in BTB socket allows easy installation of a CM4 module. A CM4 replacement kit is provided for seamless installation. Upgrade to Linux to turn your Pad 7 into a mini-computer.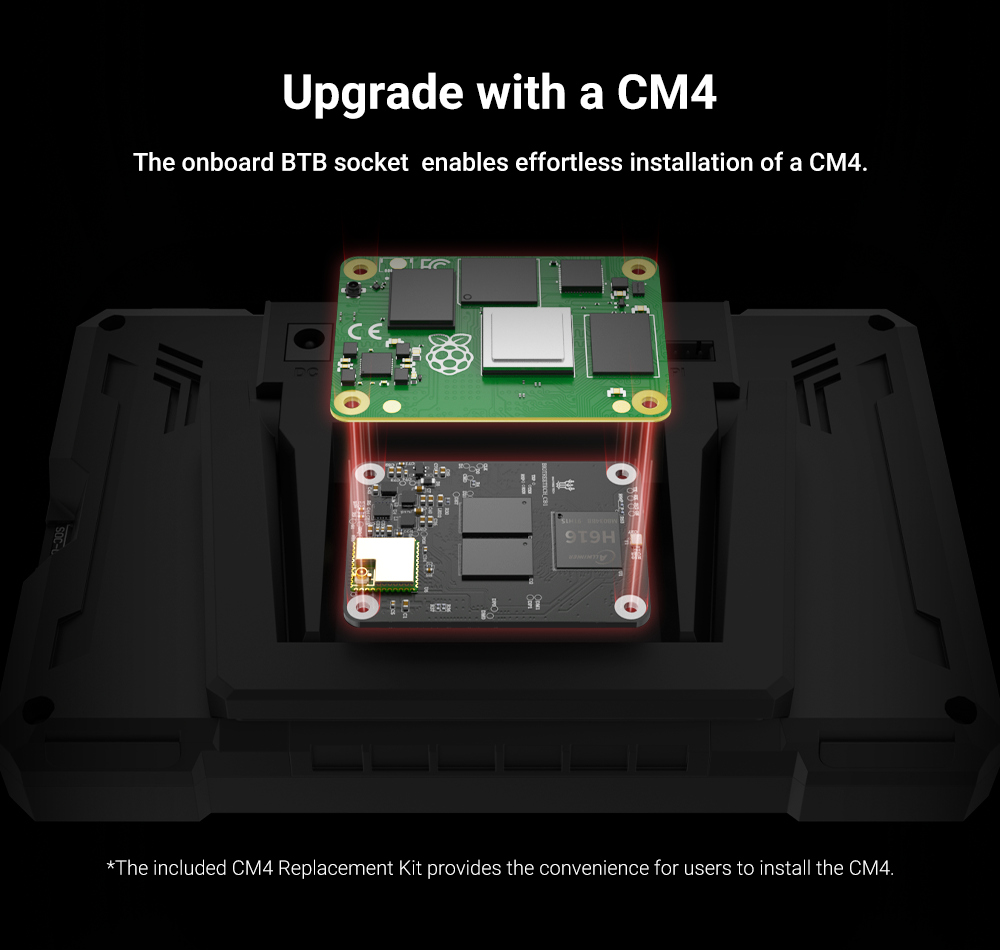 9)User-Friendly Linux Desktop System
-The Pad 7 features a user-friendly Linux desktop system. Utilize it for web browsing, video watching, and connecting peripherals while your 3D model prints.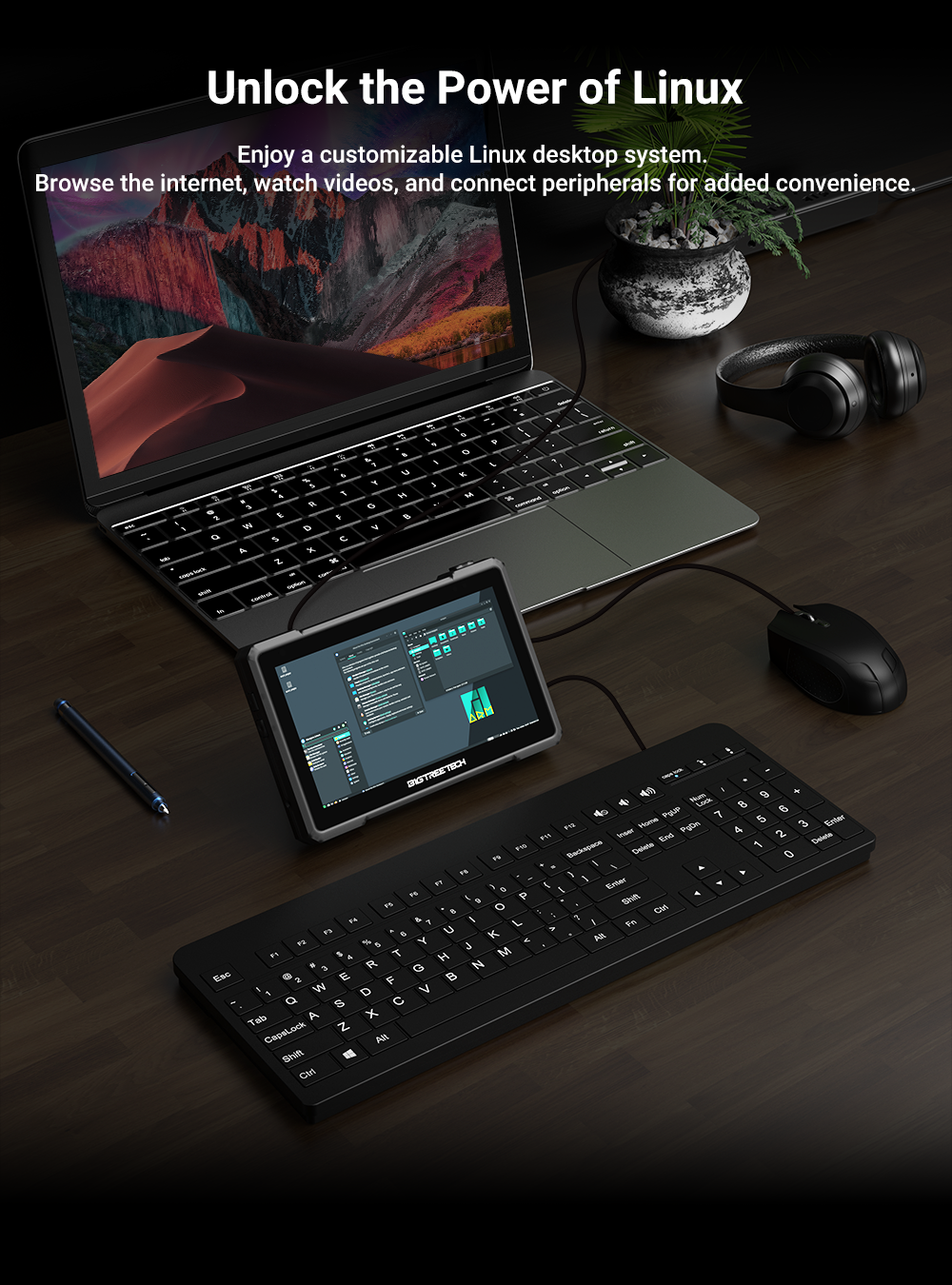 10)7-Inch IPS Touchscreen with Touch Feedback
-The 7-inch IPS touchscreen boasts 1024 x 600 pixel resolution and a 60 Hz refresh rate, offering high resolution and vibrant colors. The capacitive sensitivity technology provides touch feedback with each interaction.
Elevate your 3D printing experience with the Bigtreetech Pad 7 and unlock new levels of efficiency, performance, and convenience!