A DELTA WITH BIGNESS
This Flsun 3D printer is one of the bigger boys. Typically delta printers don't house the largest build surface but can offer taller print heights. With 260 x 330 mm, it offers quite a sizable build volume, given its mechanical arrangement and price range. Delta printers are few and far between and with the print volume of the SR, typically found for twice the price.
At 960 mm in height, it's taller than a jockey, and you need quite a bit of room to set it up, though.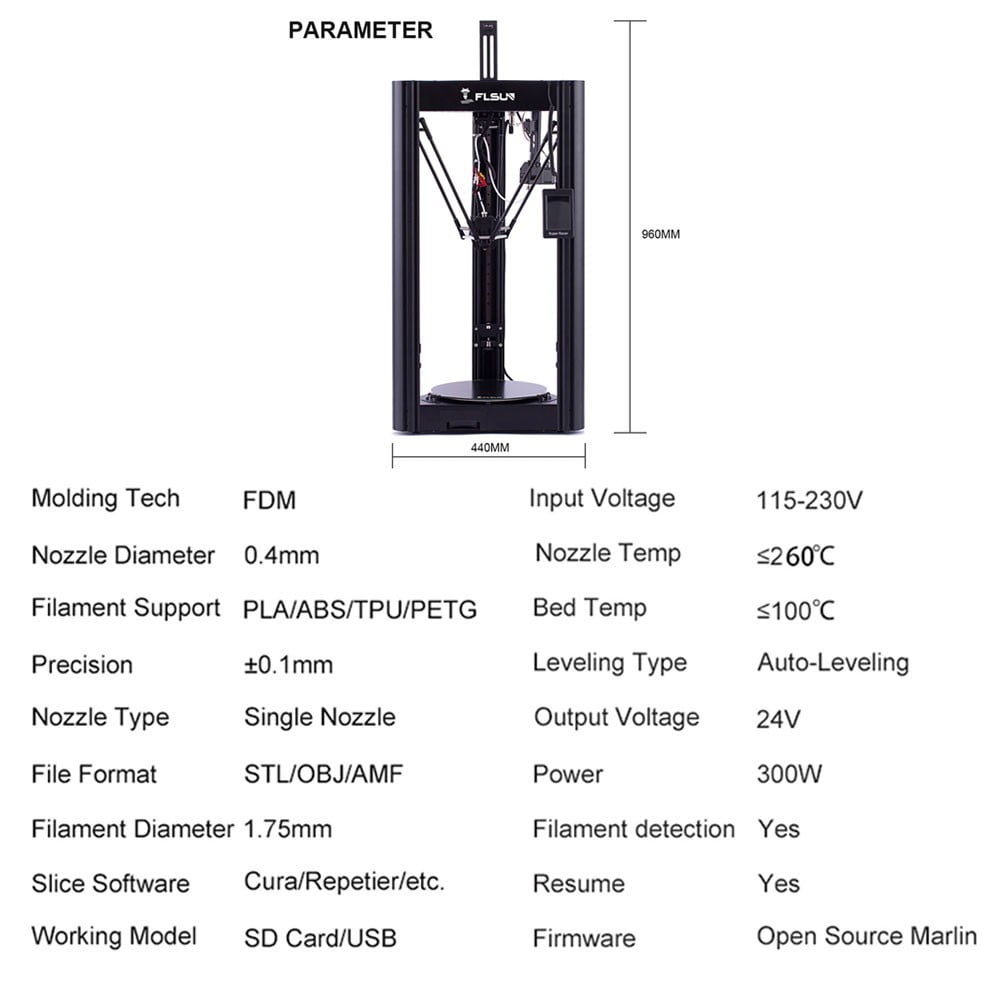 FAST PRINT POTENTIAL
Flsun would be foolish to call a printer the "Super Racer" (SR) if it didn't offer some impressive print pace. Flsun says the default printing speed of the SR is 150 mm/s, but it could go as fast as 200 mm/s if you wanted. Compared to Flsun's Q5 which operates at 30-100 mm/s speeds.
A 3.5-INCH DANGLY TOUCHSCREEN
The SR comes with a small touchscreen attachable to the frame of the printer via a magnet. Thus, you can take it off and move it around. With Marlin firmware, it's making this printer much more easy to use and responsive.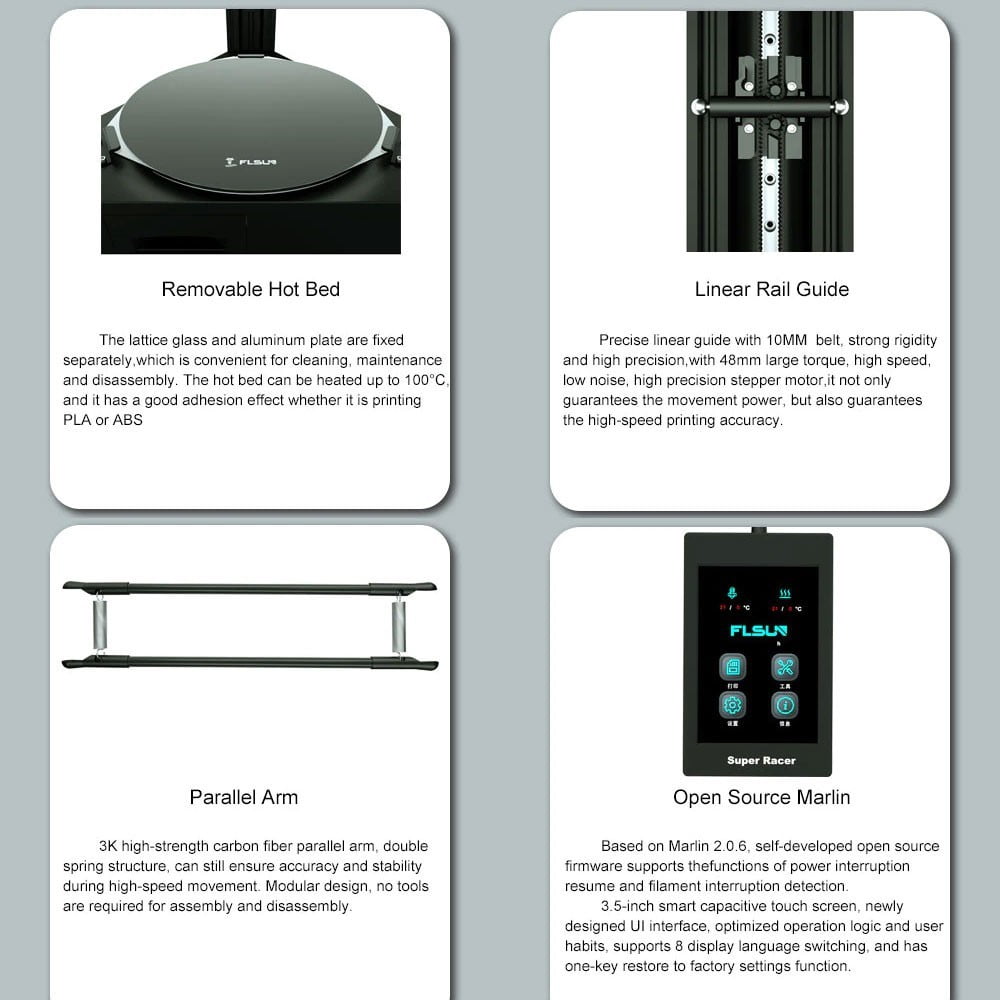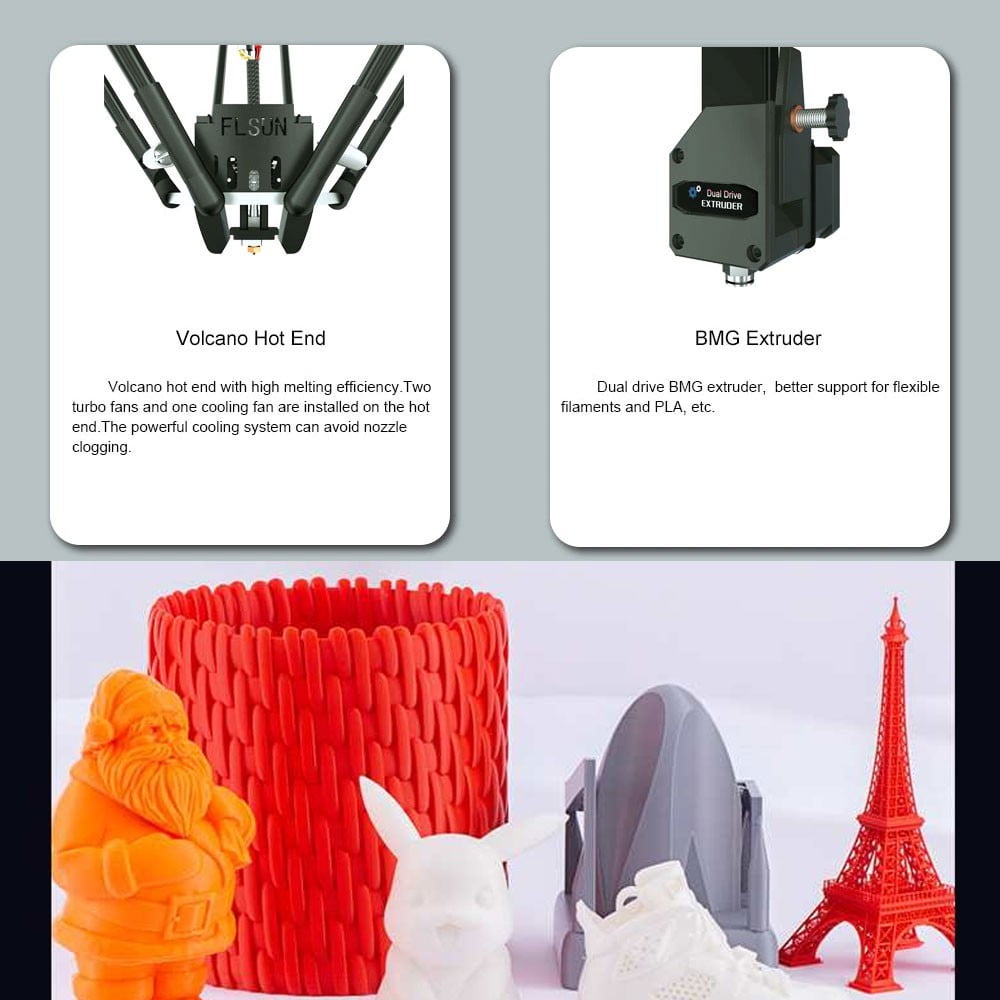 REMOVABLE GLASS BED + AUTO LEVELING
The heated bed on this Flsun 3D printer combines two noteworthy features: it is made of tempered glass, and it is removable. The textured print surface is quite probably the best in town as it provides strong adhesion without the need for a glue stick. It lets you pop off the prints just as easily after the plate cooled down. This also allows for aesthetic first layers. Not to mention the Auto Leveling + Glass bed is making this printer almost leveling free.
VOLCANO HOT END
As the Flsun SR can reach high printing speeds, it is perhaps sensible that Flsun has chosen to outfit the machine with a volcano hot end. It should ensure that filament is melted quickly and efficiently. It will also provide enough molten filament for the SR's potentially high printing speeds.
DUAL-DRIVE EXTRUDER
This Flsun 3D printer comes with a dual-drive Bowden extruder that should allow for a steady and reliable flow of filament to be fed into the hot end. Bowden-type extruders occasionally struggle with jam-free feeding of flexible filaments. However the dual drive should mitigate some of it as it provides an even feeding.