Internship opportunity in Smith3D
Are you passionate about e-commerce and engineering? We're currently seeking talented and motivated individuals to join our team for two exciting internship opportunities!
E-commerce Internship: Play a crucial role in maintaining and updating our online store, supporting marketing campaigns, analyzing customer data, and contributing to the development of strategies to improve sales, customer engagement, and overall user experience.
Engineering Internship for 3D Printer Repair: Gain hands-on experience in diagnosing, troubleshooting, and repairing various 3D printer models. Develop proficiency in mechanical and electronic components and contribute to efficient maintenance and repair processes, ensuring optimal printer performance and customer satisfaction.
If you're eager to learn, grow, and make a meaningful impact in the e-commerce and engineering fields, we'd love to hear from you! Apply now and start your journey with our dynamic team.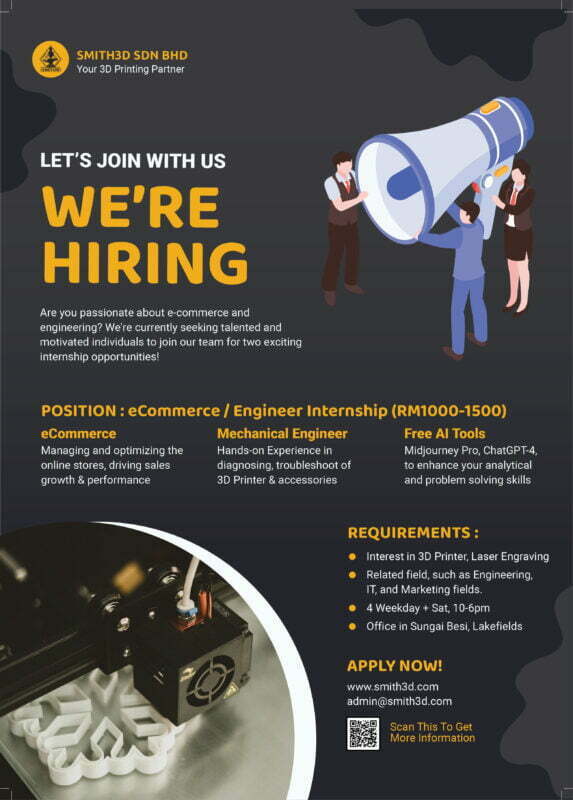 Requirement (E-Commerce RM1000-1200)
Currently pursuing or recently completed a degree in a relevant field, such as Business, Marketing, Computer Science, Engineering, or a related discipline.
Demonstrated interest in e-commerce, engineering, or technology through coursework, personal projects, or previous internships.
Strong analytical and problem-solving skills, with an aptitude for learning new technologies and concepts.
Excellent communication and interpersonal skills, with the ability to work both independently and collaboratively within a team.
Familiarity with e-commerce platforms, content management systems, and digital marketing tools is a plus.
Willingness to take initiative, adapt to changing priorities, and contribute to a fast-paced, dynamic work environment.
Availability to commit to a minimum of 10-12 weeks for the duration of the internship, with a flexible schedule to accommodate project needs.
Strong organizational and time-management skills, with the ability to balance multiple tasks and meet deadlines.
Assist logistic in Packaging
Requirement (Engineering RM1000-1500)
Currently pursuing or recently completed a degree in a relevant field, such as Electronic, Mechatronic, Mechanical Engineering, or a related discipline.
Demonstrated interest in e-commerce, engineering, or technology through coursework, personal projects, or previous internships.
Strong analytical and problem-solving skills, with an aptitude for learning new technologies and concepts.
Excellent communication and interpersonal skills, with the ability to work both independently and collaboratively within a team.
Familiarity with e-commerce platforms, content management systems, and digital marketing tools is a plus.
Basic understanding of 3D printers and their components, as well as common troubleshooting techniques (for the Engineering Internship).
Willingness to take initiative, adapt to changing priorities, and contribute to a fast-paced, dynamic work environment.
Availability to commit to a minimum of 10-12 weeks for the duration of the internship, with a flexible schedule to accommodate project needs.
Strong organizational and time-management skills, with the ability to balance multiple tasks and meet deadlines.
Assist logistic in Packaging